La Suprema Mexican Restaurant – Nederland & Beaumont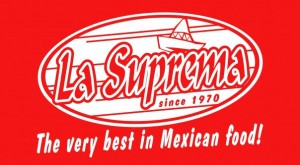 Venue: La Suprema Mexican Restaurant
Address: 3106 Highway 365, Nederland, TX 77627
Hours/ Days Open:
Monday – Thursday: 11a-9p
Friday-Saturday: 11a-10p
Sunday: 11a-3p
Phone: (409) 722-2880
NEW Location! 
4580 College St, Beaumont, inside M&D Supply
Beaumont Location serves a varying menu with different specials daily.
Hours for Beaumont Location:
Breakfast Hours: 7:30 to 10A
Lunch:11A – 2P
* closes in between breakfast & lunch -10A-11A
Visit La Suprema Facebook Page
Visit La Suprema Website
See La Suprema Menu Here
Description: Four generations of the Martinez family have been serving Southeast Texans since 1970. La Suprema has been given excellent reviews by Texas Monthly on quite a few occasions, the magazine has said " Mexican food this good should leave no room for doubts, or dessert either" . TM has also raved about La Suprema's Crab Empanda (a delicious well seasoned crab dressing in flour shell, deep fried then laid in a bed of lettuce and tomatoes and topped w/guacamole and sour cream and served with rice and a green salad)  and La Suprema's mechaca (chredded beef), while stating that La Suprema's guacamole is "state of the art"! Catering available for events large or small.
La Suprema's Daily Specials:
Monday- #1 Two Beef or Chicken Taco's $5.75
Tuesday – #2 Two Cheese Enchiladas $5.75
Wednesday – #3 Two Beef Enchiladas $6
Thursday – #5 Two Beef & Bean Burritos $6.95
Friday – Diana's Combo $6.50
Saturday – #4 Three Tamales $5.50
Sunday – #15 Chimichanga Dinner $7.50
Drink Specials:
La Suprema's Every Day Drink Specials- Sangria-Rita $1.50 (frozen also) PLUS $1 beer (all the time) with Lone Star Longnecks and Coronitas(6 0z Corona) and Miller High Life.
Mondays; Mexican Beer Mondays! You can have any Mexican beer for only $2 (all day)
Wednesdays – Frozen Margarita's only $1.50 from 4p til close