Beaumont Foodie Favorite – 10 oz Pork Porterhouse at Casual Entrees on Phelan
When Beaumont foodies are hungry, REALLY hungry, they head down Phelan to Casual Entrees for their Pork Porterhouse.
This is really a meal most of us could share – a big 10 ounce center cut pork porterhouse seasoned in Casual Entrees custom blend of spices.
The meal comes with two sides and one of Casual Entrees freshly baked rolls.
The sides are good enough to be a meal in themselves:
Sweet Potatoes
Lima Beans
Sweet Potato Fries
Turnip Greens
Baked Potato
Fried Okra (Why is something so simple so good??)
Broccoli and Cheese Casserole (Beaumont comfort food)
Steamed Vegetables (Beaumont healthy dining)
Macaroni and Cheese (Classic SETX Comfort Food)
Okra and Tomatoes (The flavor of summer in SETX)
Corn
Carrots
Green Beans
Mashed Potatoes
Onion Rings
French Fries
If you're a hungry Beaumont foodie (or dining with a friend), head down Phelan to Casual Entrees for their 10oz. Pork Porterhouse. It's a big meal with big flavor in every bite.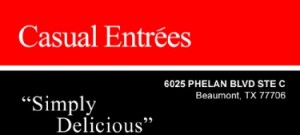 Venue: Casual Entrees
Address: 6205 Phelan Blvd. , Beaumont Tx 77706
Hours/ Days Open:
Sun: 6a-4p
Mon-Sat : 6a-9p
Phone: (409) 861-4247