Chef Tiffany Derry From Top Chef is Visiting Beaumont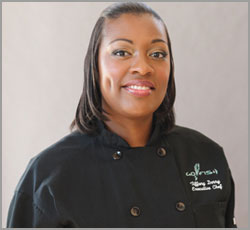 (this is the page of Chef Tiffany's visit to Beaumont in 2010 – to read about her Pop Up Dinner in Beaumont on November 9, 2012 – click here http://www.eatdrinksetx.com/chef-tiffany-derry-pop-up-restaurant-beaumont/  )
(Nov. 2010) If you are as big of a fan of Top Chef's Tiffany Derry as we are then we know we will see you at Casual Entrees (off Phelan in the West End of Beaumont) , on Monday, November 8 2011, from 5:30p-8:30p !
Ernest Jackson, chef/owner of Casual Entrees is hosting a wine & hors d'oeuvres reception in honor of Tiffany, his former work mate from their days at a local IHop when they were both starting their culinary careers.
Beaumont's Mayor Becky Ames will also be there to officialy announce Monday, November 8th Tiffany Derry Day for the city of Beaumont, too!
Get your cameras ready, and while your waiting, become a fan of Tiffanys on Facebook along with Casual Entrees and tell Chef Tiffany & Chef Ernest  you'll be there!
Chef Tiffany on Facebook
Clcik Here for the Facebook Invite for Casual Entrees Reception for Chef Tiffany Derry