Stress Free Southeast Texas Christmas Shopping at WineStyles Beaumont Black Friday
Shop stress free in Beaumont on Black Friday. Let the others scramble around and fight over the last Cabbage Patch Doll or Tickle Me Elmo.
Knock out your Southeast Texas Christmas shopping with a glass of wine in hand at WineStyles Beaumont.
Come in to WineStyles on Dowlen to de-stress, join the festivities and get in the holiday spirit!
Get all your Southeast Texas Christmas shopping taken care of in one place.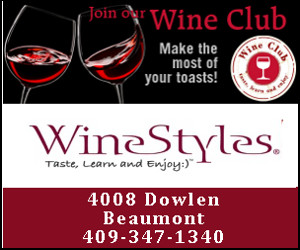 WineStyles Beaumont offers many unique gifts and custom Southeast Texas gift baskets:
Beaumont wine lover's gift baskets
Southeast Texas craft beer fan gift basketsx
WineStyles Beaumont holiday gift cards
WineClub Memberships
Craft Beer Club Memberships
Don't forget- wine discounts by the case!
Wine Accessories
Black Friday doesn't have to stressfull.
Spend your Beaumont Black Friday at WineStyles on Dowlen- with a glass of wine in your hand and a relaxed smile on your face.
Locally owned vendors like WineStyles on Dowlen Road can really help you personalize your Christmas gifts this year.
For more Southeast Texas Christmas shopping ideas, stay tuned to EatDrinkSETX.com.
We are your online Southeast Texas lifestyle magazine.
You can also "like" Eat Drink SETX on Facebook to receive the latest information on:
Southeast Texas holiday events
Golden Triangle restaurant reviews
SETX festivals and nonprofit galas