Beaumont Lunches Downtown at Suga's Deep South Cuisine
Lunch Recommendation Beaumont TX

–

Suga's Deep South Cuisine
Suga's Deep South Cuisine has been a leader in Beaumont's downtown fine dining renaissance.
Trends may change, but if you deliver the freshest ingredients cooked with vision in a beautiful setting, you'll draw a crowd. That is the Suga's formula- culinary vision, fine ingredients, wonderful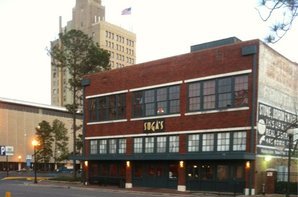 ambiance.
Grab a few friends from work or call your spouse to meet your for lunch this week at Suga's Deep South Cuisine. You'll discover truly wonderful food in an absolutely beautiful historical building, right in the heart of downtown Beaumont.
Suga's is the kind of restaurant that would be at home in a historic section of New Orleans or Houston. Beaumont foodies are truly fortunate to have a restaurant of this quality right in downtown Beaumont.
The Suga's Deep South Cuisine lunch menu is packed with items ranging from delicious to "I can't believe this is so good!"
Today we are highlighting three wonderful seafood options- you can explore the full Suga's Lunch menu by clicking this link.
A lot of people like to order a salad when eating with co-workers (or spouses!). It makes us feel like we're projecting and "I'm eating healthy" imag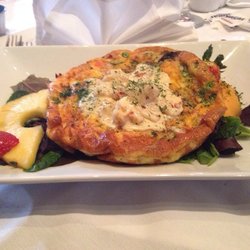 e. At Suga's you can get a salad that doesn't sacrifice on flavor. Try the Suga's Crab Cake Salad. The star of the dish is Suga's breadless crab cake. With a breadless crab cake, you're getting lots of crab- something many other Beaumont restaurants crab cakes seem to sorely lack.  The crab cake is served on a bed of  fried green tomatoes, red onions, cherry tomatoes, mixed fresh greens, and Suga's Georgia peach vinaigrette. It's a salad, but it is so much more.
Let's keep the Beaumont seafood lunch theme going with Suga's oyster po-boy. You can argue with your friends if this classic New Orleans style po-boy is anchored by the fresh Gulf oysters or the crusty French loaf. Of course, someone else might argue for Suga's homemade Remoulade sauce. Together, it all works and works well. Suga's side for their po-boys is the rosemary fries, which are outstanding in their own right.
For our final downtown Beaumont seafood lunch choice from Suga's for today (remember there are lots more on their lunch menu), let's look at the Suga's Crawfish Carbonara: Crawfish lightly sauteed in a garlic Alfredo sauce with roasted artichokes, onions, wild mushrooms, and tasso ham on penne pasta. This is an outstanding seafood pasta.
Whatever you choose, Suga's lunches are sure to please. Suga's lunches offer wonderful flavor with beautiful ambiance.
Next time you want a memorable lunch in Beaumont, head downtown to Suga's Deep South Cuisine.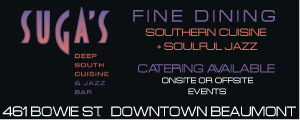 Venue: Suga's Deep South Cuisine & Jazz Bar
Address: 461 Bowie Street,  Beaumont, Texas (Map)
Hours/ Days Open:
Monday – Thursday — 11am to 10pm
Friday – Dinner – 11am to 11pm
Saturday – 5pm to 11pm
Saturday Brunch – 10am to 3pm
Sunday Brunch – 10:30am to 3pm
Phone: (409)  813-1808
Click here for the Suga's Deep South Cuisine website.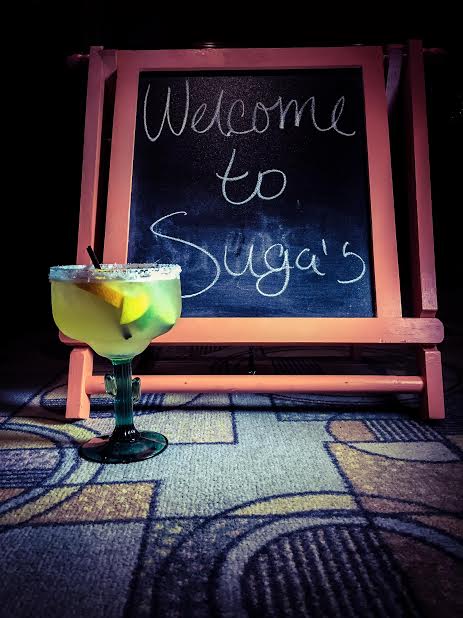 Eat Drink SETX tip: Don't miss Suga's on the weekends for a wonderful Southeast Texas live jazz brunch experience.